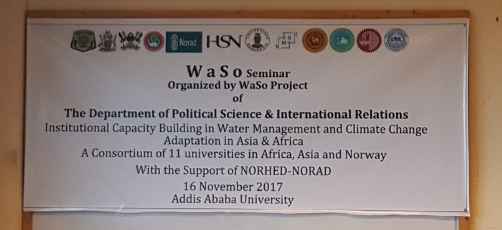 From 14 November to the 19th participants from WaSo Africa and WaSo Asia gathered in Addis Abeba, Ethiopia for the second joint Annual project meeting. The meeting began with a 1-day seminar at Addis Ababa University, at which Dr. Jeilu Oumer, AVP and President responsible at the university and Prof. Yacob Atito welcomed the partners of the project at the university. Prof. Edward Kirumira followed with a presentation on "Strengthening water sector capacities and competences in Africa". Prof. S.B. Weerakoon then talked about Synergies in South-South water partnerships, before Prof. Tore Sætersdal presented "Efforts to unite and consolidate efforts for better and fair water management".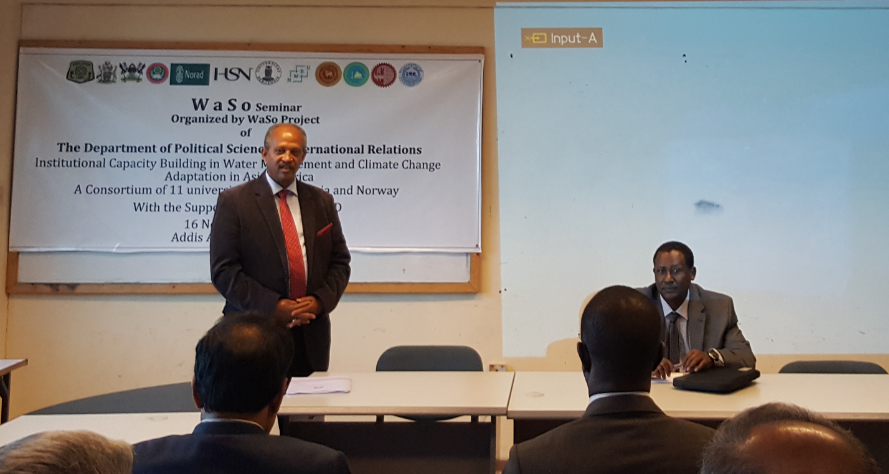 After the formal opening, the seminar then split into two parallel sessions. One focused on Social and political sciences, while the other focused on Engineering sciences and technology.
Social and political sciences presentations:
Shared waters and riparian governance, Dr. Yacob Arsano, AAU.
Water and establishment of colonial stations in Kenya, Dr. Mary Mwiandi, UoN.
Water, climatic change adaption and gender: Thematic Tool for Institutional Analysis, Dr. Dauda Batega, MAK.
Water and social development, Dr Aberathne Rathnayake, UoP.
Lake Eutrophication and restoration – Socio economical aspects, Dr. Tone Jøran Oredalen, USN.
Urban flood conditions in Phnom Penh: the citizen's experiences, Dr. Sokchhay Heng, ITC.
The ancient hydraulic civilization at Deduru Oya river basin, Sri Lanka, Saliya Sampath, UJF.
Water Logging and Impact on Traffic in Dhaka City, Dr. Md. Mizanur Rahman, BUET
Engineering and technological presentations
Integrated Water Management: the Case of Addis Ababa, Dr Agizew Nigussie, Addis Ababa Institute of Technology, AAU.
Climate change impacts on water, Prof. S.B. Weerakoon, UoP.
Land use, land cover changes of Dhaka Eastern region and its impact on water cycle, Prof. Md. Mafizur Rahman, BUET.
Water pollution management for a sustainable water use, Dr. Gemunu Herath, UoP.
(Mis)use of our scarce water resources, Prof. Francis Mutua, UoN.
Water circularity, Dr. Zakhar Maletskyi, NMBU
Freshwater harvesting by continuous flushing of mainland rivers, Dr. S. Sivakumar, UJF.
The Link between stream orders and the Amharic Language, Dr. Azage G. Gebremariam, Ethiopian Institute of Water resources.
The project group then travelled to the beautiful Bishoftu, where the project meeting commenced. A number of administrative and financial issues were discussed, and new tasks and responsibilities were assigned. Preparations for the WaSo Africa annual meeting with NORAD in Uganda was also a part of the meeting agenda.
The participants of the project meeting in Ethiopia wants to thank the partners at AAU for organizing the fruitful meeting!